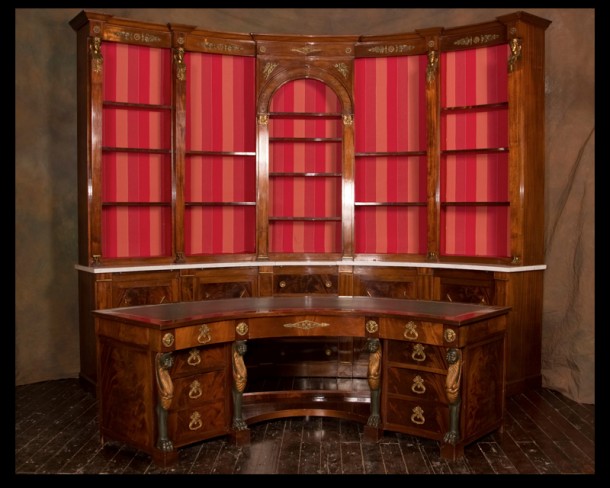 This curved desk and bookshelf pair is both extremely rare and undeniably stunning. The pair dates back to the 19th century, is made of mahogany, and sports the empire style classically, seen most notably in the bronze d'ore mounts.
The bookshelf features exquisite crossed arrows at the base with hidden pull out drawers above. Bronze feet rest above the white marble lip, which continue up mahogany columns to a set of gorgeous profiles. Empire mounts adorn the piece above.
The desk features six drawers, bronze d'ore and patinated bronze stylized cheetahs, magnificent swan pulls original to the piece, and an inlaid black leather top. It's unique in the placement of the detailed mounts. Usually, these would be seen on the exterior facing visitors in order to display wealth and beauty, here however the details are found facing the desk's owner, perhaps in an effort to keep this beauty close to the seated beholder.
The pair would work magnificently together in a library, or individually as a freestanding desk and a separate bar display.
Desk: 7′ 10″ wide x 25″ deep x 29 1/2″ tall
Bookcase: 11′ 4″ wide x 46″ deep x 8′ 9″ tall