Henry Granet
President, French Antique Shop, Inc.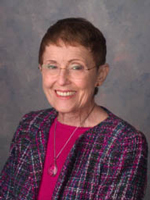 Nicole Granet Friedlander
Secretary/Treasurer and Second-generation owner
Nicole's incredible knowledge and experience within the antique world began at a very early age, when she would assist her mother and father in the family business.
As a second-generation owner, Nicole was educated at Newcombe University, and after become one of the driving forces that has helped shape the French Antique Shop.
Nicole's passion for antiques grew over the years and today she has become a leading authority within the industry.
Although Nicole's is very knowledgeable of European antiques, especially French 17th century furniture, she has a particular interest in fine 18th and 19th century porcelains.
Nicole is very active within the daily activities of the family business and supervises the administration, purchase and the coordination of all the shipments from Europe.
Grace and elegance permeates the French Antique Shop through many the antiques on display and this is due in no small part to Nicole spending a lifetime within the antique business. It is because of Nicole's dedication and integrity through the years that has helped make acquiring antiques a most enjoyable experience for our clients.
Marc Friedlander
Vice President and Third-generation owner
Marc's experience in the antique industry continued the family tradition and he began working at an early age with a few hours each week wiring and packing chandeliers. Gradually as his experience grew, he began with assisting some of the fine craftsmen restoring and polishing and was eventually groomed to accept management and sales responsibilities as he worked alongside his family members.
After graduating in 1983 at Vanderbilt University in Nashville, with a Bachelor in Arts in Economics and Business, Marc began working at the family business full time as a third generation owner.
As Marc's knowledge and experience has expanded so has his responsibilities. Some of these now included traveling to Europe to personally acquire inventory, assisting with the coordination of shipping, direct sales and marketing programs, and implementing and developing the company data base for inventory sales.
As a proponent of technology and recognizing the importance of the internet within the traditional antique industry, Marc has been the driving force in moving the French Antique Shop forward and helping the company embrace these tools. Today the French Antique Shop uses computer integration to help with communication, and Marc has developed the company's data-base driven web site.
The combination of this technology provides both the business and their clients with valuable information such as locating and examining a particular antique, to assisting with the transaction, and the shipping and the tracking of each purchase.
Alex Asprodites
Sales Consultant
Alex Asprodtes graduated with a degree in history, but came to The French Antique Shop after working several years in the retail industry.
Having purchased his very first antique, an old Paris vase, when he was still a freshman in high school, Alex became an avid collector and realized at an early age that this was a direction he wanted to pursue for his career path.
Through the years Alex has assisted many clients with their collections and due to his extensive knowledge of French history and this area of antiques, his professionalism and enthusiasm, he has become a trusted consultant to many of our discerning clients and their collections.
The French Antique Shop has allowed Alex to develop a particular interest for his favorite area of antiques, sophisticated French furniture, often known as "the Louis" in part because of their grandeur and majesty.
In Memoriam : Lucille Anderson
Sales Consultant
A native of New Orleans, Mrs. Anderson joined the French Antique Shop in 1996 and came with an extensive forty four years of experience with antiques from the Henry Stern Antique Company.
Mrs. Anderson had a keen knowledge of French Provincial and English antiques. As an avid collector herself, Mrs. Anderson was an accomplished interior specialist, having decorated many client's interiors while employed at Sterns'.
As an integral part of the French Antique Shop, Mrs. Anderson provided a valuable insight into the antique world through her extensive knowledge base and was a great asset to our gallery. Sadly missed by her family , friends and colleagues.
Melissa Mayeur
Administration and Computer Technician
Pablo Rodriguez
Lighting Technician
Michael Bolds
Gallery Assistant
Larry Mathews
Gallery Assistant